How has cycling empowered you to bring change to your own life and the lives of others? Empowerment was the theme of the second BIKE MINDS virtual event, and storytellers from across the world were challenged to ponder these questions when they shared their stories.
Bikes + Empowerment was held on November 18, 2020 at 8PM EST continued the BIKE MINDS Virtual series, which kicked off in August 2020 with Bikes + Fate. With the help of BYCS and the Bicycle Mayor program, we assembled a diverse range of storytellers from Ecuador, Argentina, Mexico, Australia, and Japan.
The Zoom chat was abuzz throughout the event, with reactions of inspiration, laughter, and support. We heard stories from a lifetime cycling advocate, a mother who was determined to continue cycling after having children (and purchased the only cargo-bike in her city to do so), an entrepreneur who has helped his community rediscover the bicycle through tourism, an architect who is fostering a cargo-bike culture in Japan, and a beach-loving Australian who created a community bike ride that is for everyone.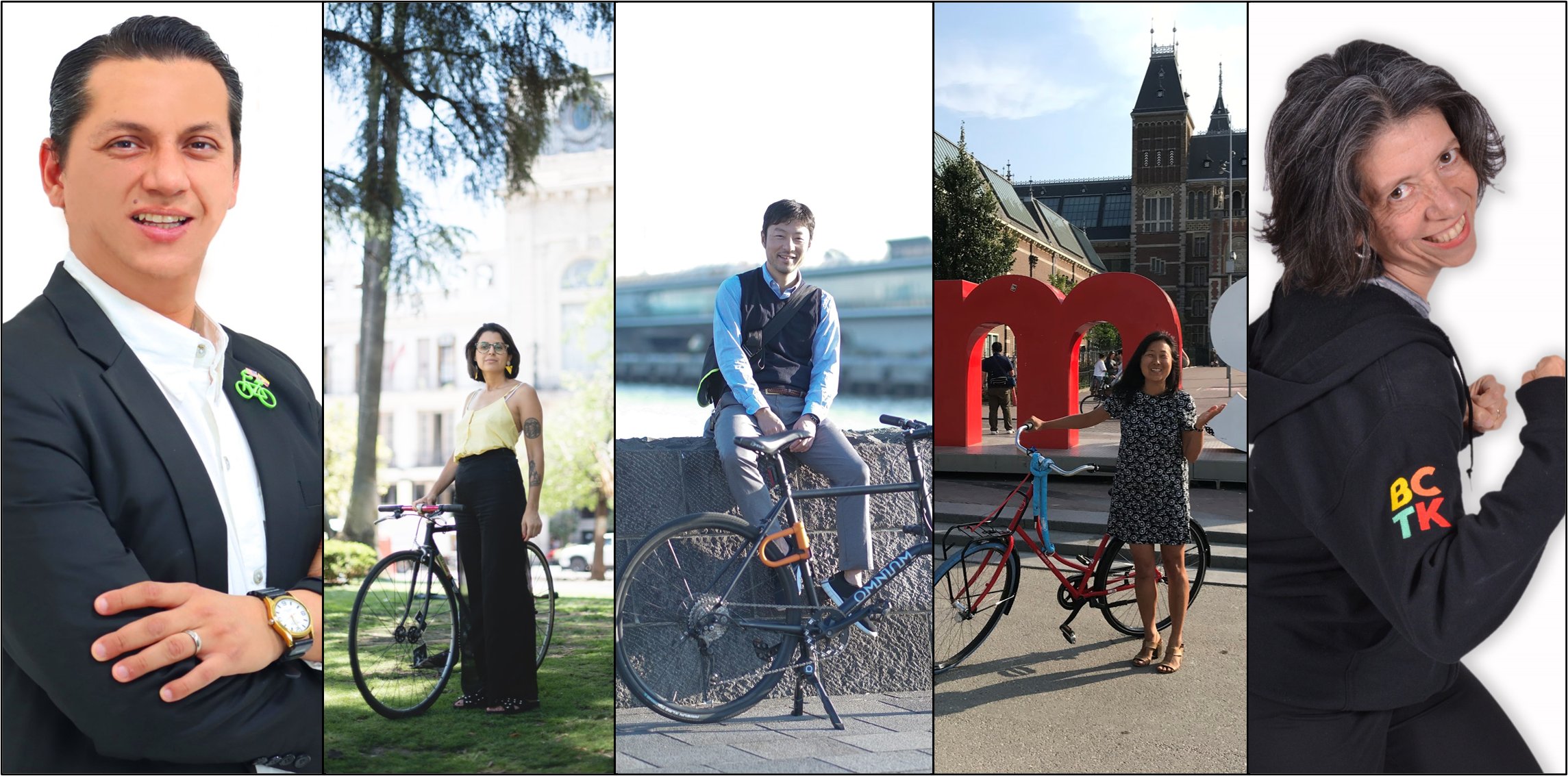 Areli Carreón (4:15)
Areli Carreón is a founding member of Bicitekas A.C. in Mexico City, which has promoted the use of bicycles as a means of transportation and as a means to create more humane cities since 1998. Areli was elected Bike Mayor of Mexico City during the 6th World Bycicle Forum in Mexico City. She is co-author of Mexico City's Manual of Urban Cycling, among other documents on urban cycling and public policy. She is a member of the civic coordination of 35 organizations promoting the recognition of the right to safe, accessible, and sustainable mobility in the Mexican Constitution that will mandate the passing of the first Road Safety Law in Mexico.
Go directly to Areli's story here: https://youtu.be/WAYqNiL20FQ?t=255
---
Jimena Perez Marchetta (20:12)
Jimena Perez Marchetta is a bike-enthusiast, passionate social worker and feminist who believes in the power of teamwork, towards encouraging sustainable mobility in the region. She is the co-founder of "Argentina en Bici", a national organisation created by civilians. Also, with some of her friends she created "Las Bicibles Salta", in the city of Salta, Argentina. Jimena is Bicycle Mayor of Salta City and has a diploma in Leadership for Transformation (UPAP-UNSAM). In 2020 she was elected as a remarkable woman of transport by the TUMI organization. In 2017, Jimena co-designed and installed the first private-use bike hangar in Latin America.
Go directly to Jimena's story here: https://youtu.be/WAYqNiL20FQ?t=1212
---
Cristian Saenz de Viteri (28:08)
Cristian Saenz de Viteri is General Manager of Iguana Bike Tours S.A., a teacher at the University of Guayaquil, and bicycle mayor of Guayaquil. He is Ambassador in Fundación Enseña Ecuador and a member of the international network "Teach For All". He is an engineer in International Business Management (UCSG) and holds a master's degree in Educational Management and Leadersip from the UTPL and a diploma in Public Policies.
Go directly to Cristian's story here: https://youtu.be/WAYqNiL20FQ?t=1688
---
Jullietta Jung (47:58)
Jullietta Jung is a beach-loving, Korean-born, Australian living in Sydney Australia. By day she leads the work at Transport for NSW to look at data to develop cycling insights. She's been working there for the past 5 years in various transport planning roles. By night Jullietta is better known as the founder of Sydney Night Rides, a community of people who enjoy riding bicycles. Sydney Night Rides is not a cycling group and it's not an advocacy group. It's a safe space for people to enjoy a ride around Sydney at night.
Go directly to Jullietta's story here: https://youtu.be/WAYqNiL20FQ?t=2878
---
Gakusen Iwasa (58:11)
Gakusen Iwasa is from Yokohama, near Tokyo, Japan. He's part of the new generation of urban visionaries and bicycle advocates in Japan. In 2017, he took the master class by Copenhagenize Design. Then, Gakusen started to import the Danish cargo bike "Omnium" in order to make cargo bikes more popular in Japan. Now, he's tackling making streets more friendly for people through the Cycling Embassy of Japan. He's also interested in holding a Bike Minds event in Japan.
Go directly to Gakusen's story here: https://youtu.be/WAYqNiL20FQ?t=3491
---
Special thanks to the volunteers that made the event possible: Catherine, Rie, Suzanne, Kayla, Francisco and Robert.
Join the BIKE MINDS Movement
Spreading the joys of cycling through storytelling has proven to be a powerful tool for empowering people to bring change to their communities. Why not join the effort? Here's some ways you can join the movement:
BIKE MINDS will return in Winter 2021 with another virtual edition with the theme Bikes+Children. See you there!